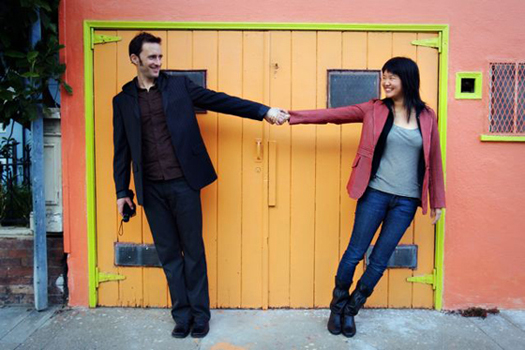 Hope is a graphic designer, seamster, and author. She likes big buttons (and she cannot lie), making fonts out of found objects, and refashioning vintage muumuus. In art school, she was the keeper of the syllabus.
Jeremy is a computer nerd, caffeine addict, and highly trained athlete. He likes to garden, eat cherry cream cheese danishes, and play in the dirt with friends. He smiles because he has no idea what is going on.
Hope and Jeremy have been dating for 4.5 years. They first met at Mission Cliffs Climbing Gym, when their mutual friend Susan plotted to set them up. Hope knew that Jeremy was the one for her when he easily scaled the climbing wall but hit his head on the bell hung at the top of the route. Jeremy knew that Hope was the one for him when she packed 14 boxes of costumes for Burning Man but forgot to bring pants. Hope and Jeremy like to eat, go to hippie hot springs, dress up in matching costumes, and climb fake rocks together. They live in San Francisco's Mission district with their two cats, Damien and Lucas.
Photo by Jennifer Kloss Heffner.