1 fit

Got us to the following, a two-color silkscreened poster edition of 125 that serves as our invitation. Final finish size is 14" x 24". Hope designed the poster and H & J worked together to screenprint them. Hope hand-perforated each poster with a perf wheel so that the lucky recipients can tear off the invitation portion of the poster and preserve the remainder as a keepsake.

For those of you wondering, the path that Hope and Jeremy walk in order to find each other traces the Chinese double happiness character, a traditional symbol used at weddings.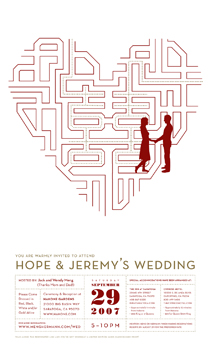 **********************
Save the Dates
Our Save the Dates were 1-color screenprinted on chipboard. They were also designed by Hope and printed by H & J.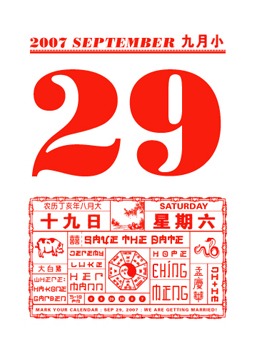 **********************
Website
Design by Hope, development by Jeremy. (check out the Google map applet he added on our directions page...he is really proud of it!)